Publicações | Publications




Por ocasião da exposição de Aidan Koch,

El Color de la Selva

, a Tinta nos Nervos editou e publicou um livro que lhe está associado, partilhando o título e algumas das imagens que a artista criou na sua viagem ao Amazonas colombiano em Outubro de 2019. O livro é composto por três partes distintas: uma colecção de 12 estudos em grafite, medindo 15 x 13 cm; um caderno de 18 x 25 cm, de capa verde, contendo uma banda desenhada inédita, "Waiting"; e uma série de 6 reproduções de aguarelas destacáveis, com margens perfuradas (25 x 25 cm, depois de destacadas). O livro, com título em espanhol, está em português e inglês.

Disponível na loja online

O

n occasion of Aidan Koch's exhibition El Color de la Selva ("The Colour of the Jungle"), we published a digitally printed book-companion, sharing the same title. This collects some of the images the artist created in her trip to the Colombian Amazon on October of 2019, and a new comic. The book contains three parts: a 12-page 15 x 13 cm booklet with graphite sketches, in black; a 18 x 25 cm booklet, with a green cover, publishing "Waiting", a never before seen 10-page comic; and a series of 6 detachable (via perforated paper) colour reproductions of watercolours (sized 25 x 25 cm, after being detached). The book, with a Spanish title, is in English and Portuguese. Available in our online shop

______________________________________________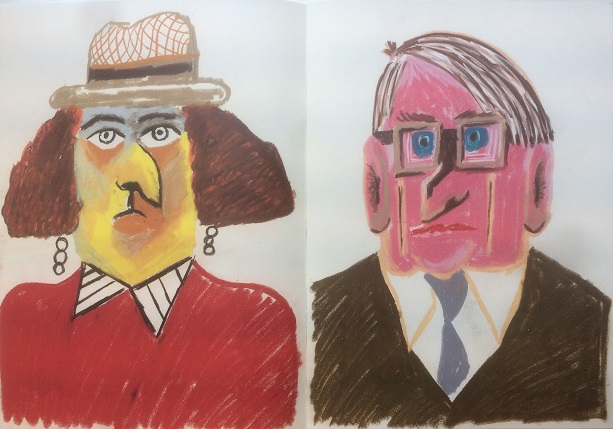 Segunda edição de

Retratos

, de André Ruivo.

«Grande e pleno, com onze retratos onde o pastel não teme sujar o papel. Retratos como eram os dos reis, do clero; mais tarde dos ricos comerciantes e burgueses; depois do povo, dos vizinhos, da família… André Ruivo preenche o olhar do leitor com a expressão celular do pastel de óleo. Obriga-nos a ver a pele das páginas, completa-nos a interpretação dessa coisa inusitada que é olhar o olhar dos outros pela luz da criatividade. E, estranhamente, fá-lo de um modo "clássico"». Assim descreveu João Eduardo Ferreira este álbum ficcional, inventivo e afectivo, de André Ruivo agora reeditado pela Tinta nos Nervos em associação com The Inspector Cheese Adventures, chancela do autor. A concepção gráfica continua a ser de Jorge Silva, mantendo-se integralmente as características singulares deste trabalho: a dimensão num tamanho A3, a intensidade cromática das figuras, a proximidade gerada pela tonalidade calorosa do papel e do manuseio em escala desmedida com o (sugerido?) desdobramento entre quem vê e é visto.

Disponível na loja online

Retratos ("Portraits"), by André Ruivo, 2nd edition.
«Large and filled up, eleven portraits in which pastel is not afraid to blot the paper. Composed like the portraits of old, of kings and the clergy, and later on, of rich bourgeois and merchants, and then the people, one's neighbours, family... André Ruivo fills the reader's gaze with the cell-like expression of oil pastel. He makes us gaze upon the skin of the page; he guides us into completion of the interpretation of that unusual thing which is to gaze upon the others' gaze through the light of creativity. And, strangely enough, he does so in a "classical" mode». These were the words João Eduardo Ferreira used to describe this fictive, inventive and affective album, created by André Ruivo and now republished by Tinta nos Nervos in cooperation with The Inspector Cheese Adventures, the artist's own label. The graphic design is, as originally, by Jorge Silva (of Silva! designers), so the original materiality remains: an ISO A3 format, the chromatic intensity of the figures, the proximity triggered by the warm tones of the paper, and by the handling of the life-like scale of a (suggested) splitting between the observer and the observed. Available in our online shop

______________________________________________


Por ocasião da primeira exposição, Fio da Navalha, publicámos
Tomai e Comei,
um livro que Pedro Proença criou para o filho no Natal de 2010. Trata-se de um livro único, em formato aproximado ao A4, com colagens, desenhos e um texto narrativo. Esta publicação está num formato mais reduzido, em capa cartonada e papel couché, numa tiragem de 300 cópias, 20 das quais assinadas e numeradas pelo artista.
Disponível na loja online
On occasion of the first exhibition at our gallery, Fio da Navalha ("Razor's Edge"), we have published Tomai e Comei ("Take and Eat"), a book that the artist Pedro Proença created for his son on Christmas 2010. Originally, it's an artist's book, approximately of ISO A4 size, with collages, drawings and a narrative written text. Our edition is in a smaller book size, in hardcover binding, coated paper. Its print run is 300 copies, 20 of which have an original sketch and are signed by the artist. The book is in Portuguese only.
Available in our online shop